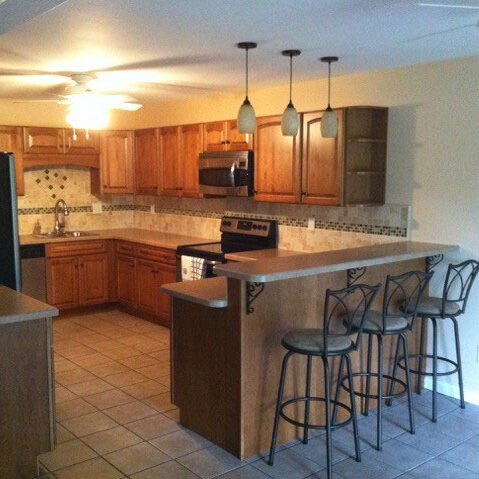 Kitchens
From tile floors and lighting fixtures, right down to the kitchen sink, our qualified design consultant will work with you to plan every detail of your kitchen renovation, and our experience craftsmen will bring those designs to life.
Remodeling a kitchen can be a daunting task, especially in the planning stages. Besides the general color scheme you also need to think of materials from floor to ceiling. Are you going for a modern minimalist style with its angular, clean and sleek look or more of a country kitchen feel surrounding yourself with fine wood cabinets and floors with little cubbyholes for every item? Are you looking for some fine stone counter tops to bring a smooth polished feel into the space or an ornate tiled backsplash to bring color and vibrance into the room?
Whatever your ideas Osting Contracting is here to help the homeowners of plan out their ideas and then make them happen. As a whole house remodeling company we know all the ins and outs when it comes to remodeling any room but kitchens are one of the areas that we enjoy renovating the most. That is because it gives us an even greater opportunity to exercise our creative muscles. Kitchens really have to be a mix of aesthetic appeal and functionality so figuring out the best way to have the layout and what extra features to add in is a fun challenge to undertake.
Osting Contracting will work with you, your ideas and your existing budget, to plan out and build the kitchen you really want. If you live in the greater area and want to have a team at your side that can bring the best out of your kitchen area then give us a call.
Why choose us for your kitchen project?
Osting Contracting provides unmatched personal service with a commitment to quality, design, elegance and affordability.
Excellent customer references.
In-home, personalized service.
We listen to what you desire in your renovated space and design around those ideas.
Our designers will help you shop for fixtures and materials.
Your satisfaction is guaranteed.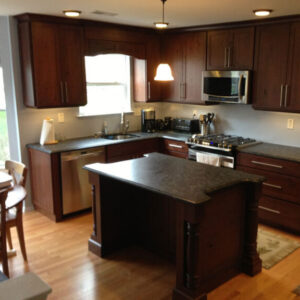 Get a quote today!
Contact us today and we will discuss all of your options and give you the honest advice you need to make the right decision for your budget and needs.